School social workers and psychologists team up with Thumbs Up to pack cheer bags for students
(02/18/2022) On the morning of Feb. 18, an asynchronous learning day at the secondary levels, school social workers and psychologists from across the school district teamed up with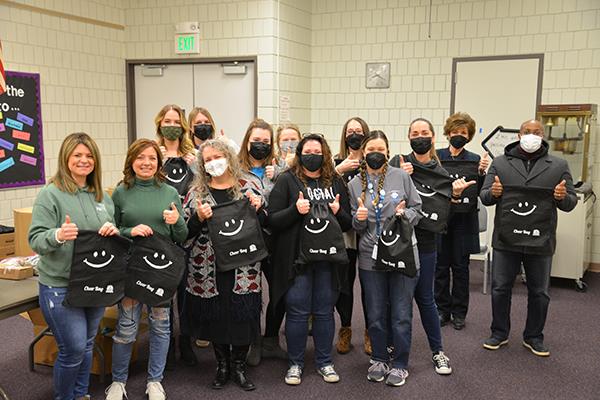 Thumbs Up, a non-profit organization, to pack "cheer bags."
The cheer bags assembled at Northdale Middle School (NMS) on Feb. 18 will be provided to school social workers across the district to share with students in need.
Katie Shatusky, executive director of Thumbs Up, was at NMS on Feb. 18 to help prepare some 200 bags that will help the organization share and distribute the resources of over 1,500 cheer bags this year.
"We started the cheer bag program shortly after Thumbs Up started," Shatusky said. "It was meant to be a way to help other people who are struggling in the community. If we hear someone is going through a tough time, we can deliver a cheer bag and bring a smile to that person's face for that day."
Shannon Lee, an active volunteer for Thumbs Up, enjoyed seeing the group coming together to help get resources in the hands of students in need.
Lee said, "Sometimes it's the littlest thing. You just never realize how the smallest act of kindness can make such an incredible impact on people. People may not even realize that someone is thinking about them or notices that they are struggling. That reminder that it's ok to not be ok."
Read full article here.